Trivial Leading-Edge Technology Dept.

SmellZ®
Press Release
---
First on the World Wide Web - Mega$loth SmellZ®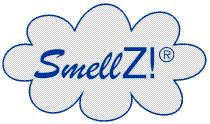 Mega$loth® Press Release dated 3/22/97 6:30pm
Mega$loth® is proud to announce an extension to its proprietary Web Browser, Mega$loth® Internet Exploder®. This incorporates Active-Z® controls to introduce an entirely new phenomenon - Mega$loth® SmellZ®.
Incorporating Scratch'n'sniff technology, this remarkable new feature allows you to sample the wide range of smells available from all over the world in the comfort of your own home. Historical smells are also available.
You simply click and wiggle your mouse pointer over the special on-screen icon, and a rich aroma will waft from the fan outlet of your computer.
Share the experience of Mega$loth® SmellZ® with a friend in the privacy of your own home.
Be the first on your block to have Mega$loth® SmellZ® in your computer.
Mega$loth® SmellZ® are not suitable for use in office environments.





Technical Notes:


The markup is simple. Just add the following code to your HTML:

<SMELLZ ODOR="19826" EMIT="200">Enclose your favorite SmellZ® icon's reference here</SMELLZ>

Mega$loth® SmellZ® do require some bandwidth. When the <SMELLZ> command is called, Mega$loth® Internet Exploder® will automatically call up our Mega$loth® SmellZserver® and the selected 1 MB SmellZcode® will be instantly transmitted to the client computer.
Webmasters can obtain our free online 4 Volume Mega$loth® SmellZguide® (85MB) by downloading this Windoze® Help file.
Designed for use with Pentiuum® processors, the system works by temporarily up-clocking the Pentiuum® processor to the relevant frequency, so that the heat from it generates the smell. Be advised, however, to use Mega$loth® SmellZ® sparingly, as overuse may cause overheating and possible confusion of the microprocessor.
Please note that Mega$loth® SmellZ® is not compatible with the forthcoming NetsCrape NiffS® from our principal competitor.
Programmers wishing to implement Mega$loth® SmellZ® on their server should note that a new Mega$loth® Professional Product, Mega$loth® MiaZmas will be announced in Q1/98.

Ends
Try

Today!
Mega$loth® Index

---